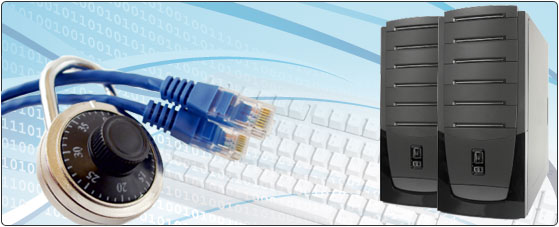 There are many advantages of trading online for a small to medium-size company. The most obvious and important ones are:
Access to a larger, global market
Lower cost of sales
Accessibility 24 hours a day, 7 days a week

This means that smaller companies can compete directly with much larger organizations, without incurring excessive expenditure. However, it is important to be aware that online trading has its own set of risks associated with information security - particularly with the collection and storage of personal information and payment details.
When you are implementing an online trading facility for your business, there are a number of areas to consider at the outset. These include:

Hosting Your Web Site

Once you have a basic structure for your web site, the next stage is to publish it. To do this you will need some web space - i.e. an area on the Internet that is reserved to store your site. There are three main options for obtaining web space:
Use Free Web Space Offered by Your ISP (Internet Service Provider).

Many standard Internet accounts offer a certain amount of free space. This is usually around 3-5MB, which is enough for a simple web site with online trading facilities.
Your ISP should provide you with all the information that you need to publish your web site at this space - you will normally need an address (URL), a username and a password.
Be aware that the address (URL) of your web site might be complex and hard to remember. It may be worth speaking to your ISP or a hosting company to purchase a name that is shorter and more relevant - these are known as 'domain names'.

Purchase web space and a domain name from a web-hosting company

If you need more than the amount of free web space provided by your ISP, or if your online trading facilities require more than the basic technology, this is an option you may wish to consider.

You will be charged an annual or monthly fee which could range from five to fifty pounds a month, depending on the amount of space and the technology provided. Also, the amount of information you are able to display will be limited so it is worth checking this out before you agree to buy web space.

There are numerous web-hosting companies which offer competitive prices - a good starting point is to type 'web-hosting' into Google (or your preferred search engine).

Your chosen host will provide all the information that you need to publish your web site - typically an address (URL), a username and a password. They should also provide contracted Service Level Agreements that specify:

Hours of service
What can be placed on the server
How much bandwidth (communications traffic) is available

Read any terms and conditions carefully and ask for clarification if you are not sure about any points in the agreement. Keep in mind that many hosting companies offer specific deals for e-commerce web sites and may provide preferential rates for hosting if you implement their security and payment systems as well.

Velocity Web Hosting Company For Small Business
Affordable Business Web Site Hosting Affordable Web Design And Hosting Affordable Web Design And Hosting Services Affordable Web Hosting Affordable Web Hosting For Small Business Affordable Web Hosting Package Affordable Web Hosting Plan Affordable Web Hosting Services Affordable Web Hosting Solution Affordable Web Site Hosting Plan Affordable Web Site Hosting Service Affordable Web Site Hosting Services Best Cheap Web Hosting Budget Web Hosting Business Hosting Service Small Web Business Hosting Small Business Hosting Small Solution Cheap Affordable Web Site Hosting Cheap Business Web Hosting Cheap Business Web Site Hosting Cheap Domain Web Hosting Cheap Host Cheap Low Cost Web Hosting Cheap Multiple Domain Web Hosting Cheap Small Business Web Hosting Cheap Virtual Web Hosting Cheap Web Host Cheap Web Hosting Cheap Web Hosting Company Cheap Web Hosting Package Cheap Web Hosting Provider Cheap Web Hosting Service Cheap Web Hosting Services Cheap Web Site Hosting Provider Discount Web Hosting Inexpensive Web Hosting Low Cost Web Hosting Small Business Web Hosting Small Business Web Hosting Plan Small Business Web Hosting Services Small Business Web Site Hosting Web Hosting Business Plan Web Hosting Company For Small Business Web Hosting Package Web Hosting Plan