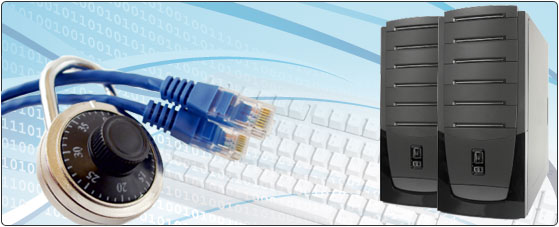 What is hosting and virtual hosting?
A hosting service provider (HSP) or application service provider (ASP) are third party entities that manage and distribute software-based services and solutions to customers across a wide area network from a central data centre. They provide the housing, servicing and maintaining of files for Web sites. When looking for a carrier to host your Web site some features to consider are the amount of storage space, bandwidth, number of e-mail accounts, transfer limit, technical support, etc.
There are many different Web hosting packages available online and prices can range from $15 to $100 a month. When deciding on a Web hosting package, evaluate your individual business needs prior to purchasing. As your business needs change you can update your package accordingly.

Virtual hosting allows a business to have its own virtual server. This virtual server gives the appearance that a company controls their own server and that server is entirely dedicated to that business site. Prices for virtual hosting packages are significantly higher than standard hosting packages and range from $200 to $1000 a month.

What is the entry price to get connected to the Internet?
At first, the costs to get on the Internet can seem intimidating, but compared with what you can accomplish in the areas of marketing and retailing on the Internet versus in the traditional commercial world, it can be a very cost-effective solution. Also, the potential Internet market is exponentially larger than any local market. To get started, you will need a modem-equipped computer ($1,000-$5,000) and access to the Internet through an Internet Service Provider ($10-$60 a month). These costs are estimates only, since costs can vary significantly, as computer prices continue to decrease, and as new access technologies become accessible and affordable (e.g. cable access).

If you want to set up a Web site for your business, consider hiring a professional to design it for you. The costs can vary significantly whether you want a simple Web site or a very complex Web site. Once you have a site, you will want to register the domain (e.g. your-business-name.com). The cost of registration may vary, depending on your choice of domain extension (e.g. .com, .ca., .org, .net...). Registering your domain on the Internet is like registering your company and company name. There are also maintenance costs to consider in order to keep the site up to date and running smoothly, which can vary depending on the scope and size of the site.
Velocity Professional Web Site Hosting
Best Web Hosting Best Web Hosting Company Best Web Hosting Service Best Web Hosting Services Best Web Site Hosting Business Hosting Business Web Hosting Business Web Hosting Provider Business Web Hosting Service Business Web Hosting Services Business Web Site Hosting Business Web Site Hosting Provider Company Web Site Hosting Domain Hosting Domain Web Hosting Host Services Hosting Company Hosting Service Provider Internet Web Site Hosting Linux Web Hosting Linux Web Site Hosting Multiple Domain Hosting Professional Web Hosting Professional Web Site Hosting Provider Hosting Quality Web Hosting Reliable Web Hosting Shared Web Hosting Top Web Host Top Web Hosting Unix Web Hosting Virtual Web Hosting Web Design And Hosting Web Hosting Web Hosting Company Web Hosting Directory Web Hosting Provider Web Hosting Service Provider Web Hosting Solution Web Hosting Solution For Business Web Hosting Solution Provider Web Page Host Web Server Hosting Web Site Design And Hosting Web Site Development Hosting Web Site Hosting Provider